January 6th is a day that will forever be burned into my consciousness. After watching the events unfold at the Capitol, a place that I worked and still approach with a sense of awe as a constituent, I was filled with anger and horror at what was happening in this beautiful, historic building.
I had finally taken a break from the coverage and decided to go upstairs and change for the night when my own world got rocked. I woke up slumped over in the bathroom, my mother was on the phone with 911 and they were well on there way to come get me. What I would come to realize later is that, I had gone upstairs for about 20 minutes and then my mother heard a blood-curling scream. She went outside to see if it was coming from the backyard--some kind of animal maybe? Before realizing that it had indeed come from me. When she got to me I couldn't speak. Just jibberish for 3 or 4 minutes until I came out of my fog. Once I did, i was a concerned about having to go back to the hospital (I had just spent 6 days there in December for a bile duct problem and I am immunocompromised). Nevertheless, my ankle was killing me and my blood pressure was in the toilet. Like 80/30 in the toilet. So off to the hospital we went.
I should pause here and remind you that I do not have a working pituitary gland. The reason will be come clear relatively quickly, but essentially, whenever I get an infection of any kind my system goes crazy. My GP knows that I am like a magnet for infections and my body goes a little haywire when I have them. Since the pituitary is the master gland and I have no functioning pituitary, I take a bunch of replacement medications, most importantly my replacement steroids which I need to live.
So in the ER they were working on my blood pressure and taking blood so much so that I got the feeling that not much was wrong with my ankle. They did take x-rays, but they also just left it flopped to the side and eventually gave me Tylenol (oy).
It turned out I had passed out because of an undetected infection so I was given a stress dose of my steroid and started on antibiotics. The doctor came in and told me that I had an ankle broken in two places and would likely need emergency surgery the next day.
So they did the surgery and it was painful. I am used to being pretty low key in the hospital, but this time, I was howling and screaming with pain. Those episodes were few, thankfully, but they came so quickly after the medical trauma I experienced in December with my bile duct/gallbladder issues, that it was very raw and hard to handle.
Coming home had its own set of challenges. My mother put out a call for things that I would need to get around and my amazing friends and neighbors came through in spades. It took a few tries but we finally figured out how to get me in and out of the car and up and down the front steps. I am largely confined to the family room of my house (I can use the knee scooter to get to the kitchen and the bathroom)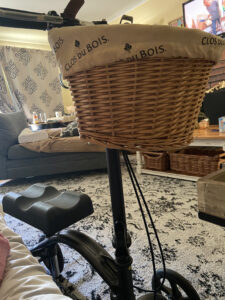 where a very comfy bed has been set up for me on the couch. But that's about it. My life has become very small. I know it's not forever and that helps.
At the beginning of this I made a conscious decision to remove myself from many of my commitments. I was in intense pain and I could not move around enough. It was
just me and the couch for a while. I have a lack of privacy. As the weeks have gone on and I have begun to heal I have felt depression setting in. But depression for what exactly? One thing my mother says sticks in my mind "you were a high functioning person with chronic illness before this happened." I think I want to get back to that but I also need to be mindful and learn that saying no is ok. Two weeks and change and I will be able to walk again (ish plus physical therapy).
So here we are in this tunnel. And I see that light at the end. It just keeps getting closer and closer.