Okay, that title may be a little dramatic but, let me tell you, as a person that has always repeated the mantra: "failure to plan is planning to fail." I like organization, I've always been a joiner, and, I like to control my own schedule. So, the learning curve on chronic illness has been brutal.
Now, don't get me wrong, with chronic illness you do a lot of planning, but it is mostly contingency planning (what to do when something goes wrong, i.e. your body does not cooperate, the venue is not accessible) rather than being able to plan out your day to day schedule, and, if you're lucky, going social events.
I haven't been that lucky lately and so my writing has suffered, but I'm dropping a quick post to say that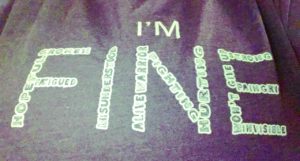 I have a few things in the queue and will start posting again soon.
And yes, the shirt says it all (read the fine print 😉).